Tips to Get you Started in Travel Video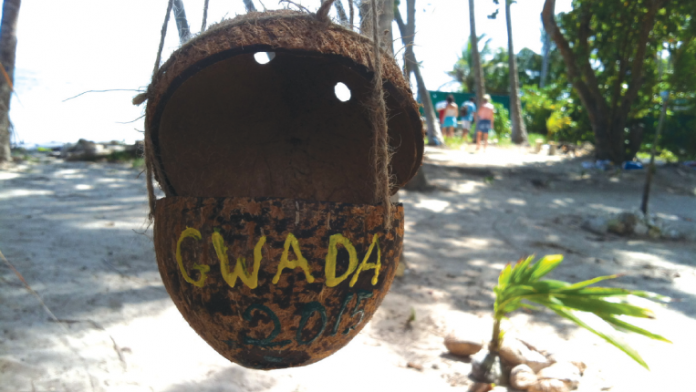 "Do you have some identification?" asked the short, white French policeman with close-cropped black hair, clean-shaven face, wearing a baby blue shirt and dark blue pants. On his belt he carried a pistol, a Taser, handcuffs and some mace.
"Yes, I have a driver's license." I said as my heart began to race because I have never been a fan of authority and the police generally aren't very fond of my fly-by-the-seat-of-my-pants lifestyle, tattoos, guitar playing and skateboarding. I seem to be having too much fun for their regimented lifestyle.
"Do you sleep here?" asked the officer with a look of bewilderment on his face as he scanned the palm frond beachfront tree house looking at the old rusty blue box spring with faded black shag carpet covering the springs, and small dirty red pillow that I was sleeping on.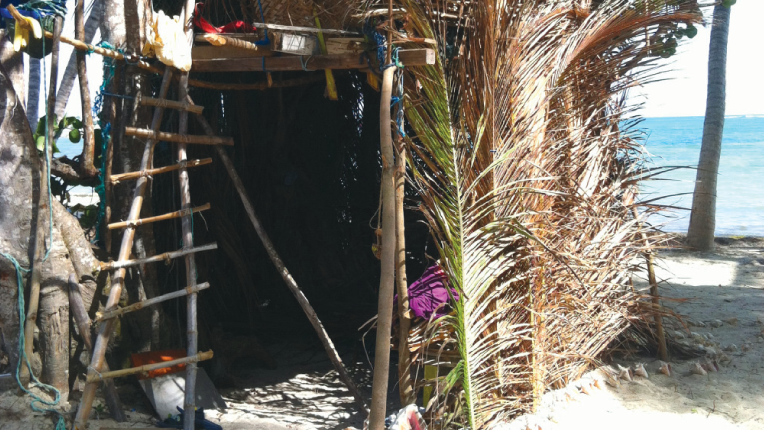 "Yes I've been living here for the last couple of days. I'm a filmmaker and writer and I am working on my assignment for Videomaker Magazine." I said as I rustled through my backpack looking for my ID.
"… And you have been sleeping here?" the officer asked again as if he didn't understand me the first time.
"Yes, I've been sleeping here for the last few days," I said. I found my ID and handed it over to him.
Just then a female police officer walked over with my Rasta friend Michelle, who owned the beachfront property I was sleeping on.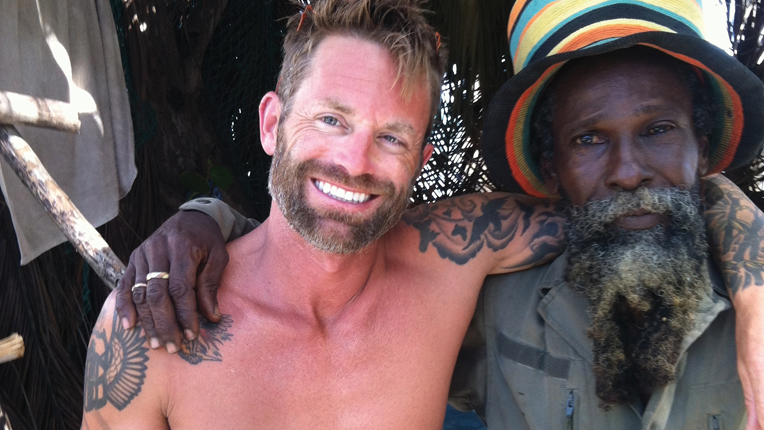 "This is Willow Jon: he is from California, and he makes music and films and travels the world," said Michelle talking to the police.
The male officer handed my ID to the female officer. She began to write down my information as another cop approached, this one plump and pale — the color of soap. With his shiny bald head and squinty eyes, he began to look into my beachfront tree house, frowning.
"Is there something I should be aware of?" I asked the officers.
"I know this lady, but she didn't know I was the owner of this beach," said Michelle, smiling his big friendly Rasta smile.
"Good, well now they know whose property they are on," I said, with a bit of attitude as the officer handed me back my ID and began walking away. I grabbed my Canon handycam and began narrating what had just happened with the cops in the background.
WHEN TRAVELING THE WORLD I MAKE AN EFFORT TO RESEARCH AND OBSERVE THE LOCAL CUSTOMS AND TRY NOT TO JUST BARGE IN WITH MY CAMERA POKING IT IN EVERYONE'S FACES.
My name is Willow Jon Collamer, and I'm living my American dream. I taught myself how to make short films about eight years ago, when I started interviewing artists, musicians and other interesting friends of mine. Over the years I've participated in 48 hour film festivals, received a video scholarship to the Wild Mind Film Camp and worked my way up from intern to video producer, editing and shooting videos for colleges, professional artist, athletes, activist, musicians and other passionate people living life to the fullest.
Right now I'm writing this article from the island of Guadeloupe in the French Caribbean where I'm sleeping in a tree house on the beaches of Saint Anne with the local Rastas, eating coconuts from the trees, learning the traditional palm frond weaving technique and sharing stories over nightly campfires. My French consists of about five words, so I'm usually pointing to what I want and making comical sounds or gestures, but I've come to understand there are many other ways to understand people than just language.
Gearing up for Travel
I've learned to pack light over my years of travel and most of my backpack consists of my video and audio gear and my MacBook Pro. I'm wearing my coveted purple shorts, which I've had for the last two years, a black button up shirt, to which I've had to sew some new buttons. Discovery Channel paid for my grey skinny jeans because I was a participant on the premier of their new survival show called, "Tethered," which aired in the U.S. on October 5th, 2014.
When traveling the world I make an effort to research and observe the local customs and try not to just barge in with my camera poking it in everyone's faces. I am friendly, outgoing, I smile a lot and ask permission of the people before I film them. If they are too shy for the camera, I take out my Olympus LS-10 digital voice recorder, set the recording levels and put the recorder in my shirt pocket or on a tripod. Olympus offers many new versions of this recorder but after years of use, this one still works perfectly. One thing my dad taught me was It always pays off to invest in high quality gear.
Many people around the world live in poverty. Things we take for granted like clean running water, cable T.V., technology and refrigeration are luxuries, so being able to create a video for someone and put it on the internet is a big deal and their smiles and gratitude remind me I'm creating and sharing joy, which is one of life's greatest gifts.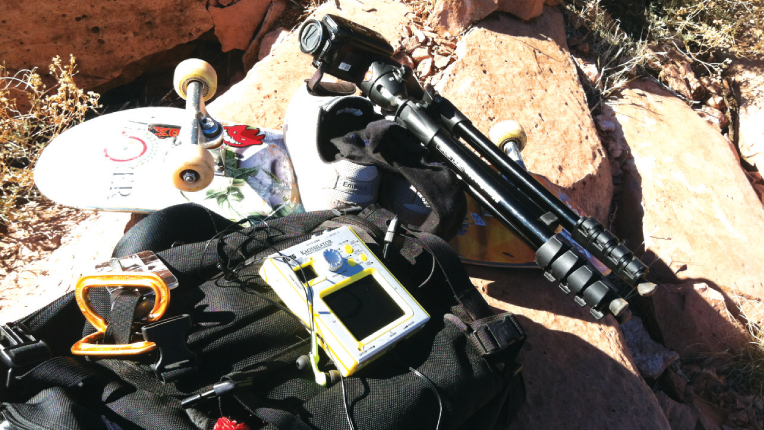 I'm currently shooting with a Canon VIXA HF-M31, which records up to 1920 x 1080/60p HD video onto a 32 GB flash hard drive with the addition of an SD card slot for more memory. I've taken this camera all over the world from Thailand, Cambodia, Laos, Spain, France, Portugal, Colombia, Ecuador, Panama and more, and it has held up very well considering all the buses, trains, planes, backpacks and bags I've stuffed it into. The touch screen is touchy to say the least. The lens cap is stuck open and it makes a funny clicking sound when I turn it on, but it's still recording audio and video.
Prepare for anything.
This year I witnessed Brazil's amazing Carnival dancers with their brightly lit handmade costumes of butterflies, skeletons, animals and trees and the bands with huge bass drums, snares and tom toms pounding out percussion beats backed up by a pulsing horn section that echoed off the cracking white stucco walls and flickering white and blue lights left over from the recent Christmas celebration. The ambient light of the sunset shown a warm amber light on the black glistening bodies lost in their musical marching trance.
On the last day of Carnival there were no busses running but I wanted to get my laptop on the other side of the island so I decided to try hitching a ride. On my way out of town, I got caught in a torrential downpour where I finally found shelter under a dock leading to the ocean. I'm super glad I purchased my Sea to Summit 13 liter Big River dry bag that holds my MacBook pro, external speaker, Kaosilator Dynamic Synthesizer, headphones, iPhone, adapters, extra camera batteries, battery chargers, cords, passport, debit card, driver's license, money and my journal or everything would have been ruined.
Making Compromises
Usually, I'm shooting handheld when I travel and interview people I meet on the go, but when I need a super steady clean shot I use my Manfrotto compact MKC3-H01 tripod, which supports my lightweight Canon HFM-31 perfectly and weighs just over a pound.
The main thing I have learned while shooting video and travelling is compactness and lightness are necessities. I've tried traveling with a Sony PMW EX-1, which has great HD picture quality and a Manfrotto 504 series tripod, but trying to carry the gear through airports, around town and hiking into natural settings, the weight and space was too much for me to handle. I sold it and went back to the compact HD handycam, which delivers astonishingly high quality images and pretty good sound for the size of the microphone.
Know what's out there
Keeping up with the latest and greatest doesn't mean lugging around a bunch of expensive gear. One of the best inventions in video production in the last century has to be the GoPro HD camcorder; waterproof, durable, high-quality, with a huge array of mounts for everything from skydiving to surfing, motorcycling, skateboarding, horseback riding, car racing and any other extreme sport you can think of. I used my GoPro to film a zip line video in Montanita Ecuador, mounted it to my helmet and soared over the forest canopy 300 feet below with the ocean swirling and roaring in the distance. The footage turned out pretty awesome. When on the lookout for new equipment, make sure it's not just the best, but the best for the situations you intend to shoot in.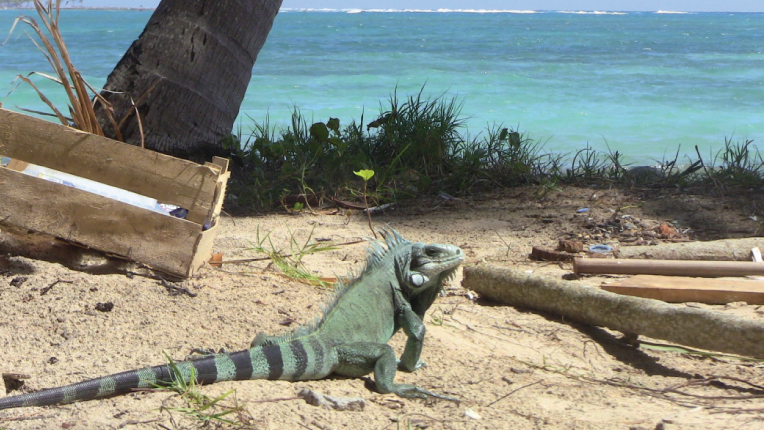 Keeping it Safe
The more places you travel, the more buses, planes, trains, boats and people you will encounter and the possibility of theft increases. Trust your instinct and always backup your footage regularly. An ironic but still not funny story I have about theft is when I was watching the movie, "The Sting" starring Robert Redford on my laptop on a bus ride from Quito Ecuador and my backpack, which was right between my feet was broken into and all of my electronics, SD cards, with all my original non-backed up footage of the past 6 weeks and cash was stolen as I naively watched a video about a heist. If any of you have ever had your creative work stolen, you know the feeling I felt; extreme anger, helplessness, depression and more than anything the feeling and knowledge that the theft, at least of the creative property, could have been prevented by backing up my footage or just sending my SD cards back home.
Starting your Journey
People all over the world are hungry for creative, fun, travel videos so grab a camera, a backpack, water bottle, some courage and get out and see the world! The time is ripe for you to take an adventure and become the filmmaker you always wanted to be. Remember the first step is the hardest so don't over plan and worry yourself into a fit. Just get your foot out the front door and shoot a couple short videos in your neighborhood and you will be on your way to becoming a travel filmmaker. Also start with by creating a few short simple 30 sec videos to get the hang of using your equipment, transferring footage, editing, adding titles, music, etc., and then move on to longer more complicated videos.
Check out my website at www.Willowjon.com to find out where in the world I'm at and what new crazy adventures I'm up too. Thank you so much for reading. Travel, write, inspire and share!
Willow Jon Collamer
Big Budget Impact with Low Budget Gear
So you want to make Hollywood style movies with a professional look but you don't have an AmEx card or Spielberg's number on speed dial. What do you do? Give up on your dream of filmmaking and hand in your application to the fast food restaurant down the street? Or, do you buckle down, study the filmmaking process, get creative and use your innovation to become the filmmaker you always wanted to be?By Willow Jon Collamer -August 25, 2015
There are a number of ways to get professional-looking shots without spending a huge amount of money, but the three basics to creating professional looking video are proper lighting, clear audio and a solid stabilization. Once you have these down, study all your equipment and film making manuals, watch as many YouTube "How to make your own equipment." videos as you can, and then get out and shoot, shoot, shoot, and edit, edit, edit. No matter how many tricks you find and corners you cut there is no experience like good old fashion practice.
Light It Right
With such vast improvements in lighting and camera technology, you can now take a trip to the hardware store and use inexpensive clamp lights or opt for Chinese paper lanterns, LED lights, headlamps, flashlights and even candles to light a scene. The best light to shoot with is still persistently available natural sunlight. Take advantage of the golden hour just around sunrise and sunset to get that ambient glowing light reflecting off of the clouds. It may sound like common sense, but you always want to shoot with the sun behind the camera, which adds modeling shadows while exposing more of your subject's form and keeping the color saturation constant. Also try to avoid shooting with the sun directly overhead as it tends to cast strange uneven or harsh shadows.
WHETHER LIGHTING WITH SUNLIGHT OR HALOGEN WORK LIGHTS, USE THE PRINCIPLES OF THREE-POINT LIGHTING WHENEVER POSSIBLE.
You can manipulate whatever light you are using with lighting flags and reflectors, which can both be made from common household materials. Black fabric, plywood painted black or black plastic can be used for a flag to block light from reaching certain parts of the frame. Another way to better control light entering the lens is a Matte Box with flaps that extend at an angle off of the lens, called bellows French flaps or barn doors. You may also need to use a reflector to bounce light back onto your subject. You can make your own reflectors from white foam core board or cardboard painted white, gold or silver. Alternatively, you can purchase a Lastolite kit which are spring loaded circular reflectors that fold away for easy storage.
Whether lighting with sunlight or halogen work lights, use the principles of three-point lighting whenever possible. Use a key light to illuminate the front of your subject, a fill light from the side to fill in shadows and a backlight to separate your subject from the background.
Audio Matters
After you have the scene properly lit, the number one thing most beginning filmmakers mess up is capturing clean and clear audio. Audiences will usually forgive a poor quality picture for a minute or so but if the audio is too low, contains wind noise or is inaudible, most people will lose interest quickly.[image:magazine_article:57745]
An external microphone will always be a good investment, but it doesn't need to be an expensive model if you pay attention to a few basics. To make sure you get good audio, shoot as close to your subjects as possible and that the mic is properly angled toward your sound source. While on set, try to reduce or remove any extraneous noises on set and make sure your batteries are charged up. Wear headphones to monitor your audio and set you levels.
Keeping It Steady
Once your scene is properly lit and the audio is set, the next thing you want to capture is a smooth steady shot. It's always better to shoot on a tripod as it makes your shots much more clean and stable. You can also attach a slider or dolly to your tripod, allowing you to adds tilts, pans and elevation to create even more interesting shots.
For your smaller cameras, like GoPros and smaller mirrorless and DSLR cameras, $13.00 will buy you the Joby GorillaPod, which is perfect for capturing exciting shots with it's three flexible legs that grip almost anything.
Elevating, tilting, tracking and panning are all great ways to add style and substance to a scene. Crafting your own jib arms are not all that difficult depending on your creative skills. You can use old tripods, microphone or light stands and with a trip to the hardware store, you can have your own custom jib arm for under $100. Homemade jibs are especially feasible for lightweight cameras.[image:magazine_article:57746]
For smooth dolly and tracking shots, look to repurpose. I found two different size dollies for under $20 at the hardware store that work perfect for small tripods like the Manfrotto compact, MKC3-H01 and Joby GorillaPods. I've even seen someone use a rain gutter and bit of grease to pull the camera across a table and the shot looked great and it only cost $13. For some shots when you just need a little bit of movement a slider will do just fine and you can even use furniture sliders to put your tripod on and just slowly push or pull it across the surface if the surface is smooth enough.
You can also make a pretty simple dolly out of some wood, a few bolts, some wheels and some string. Basically you cut the wood and make a rectangle for your tripod to fit on and attach four wheels to the box and drill a few holes in the front of the wood to put a piece of string through to pull your dolly in a smooth motion toward you to get a great looking shot.[image:magazine_article:57747]
Another fun and easy way to simulate a dolly shot is to use an ordinary skateboard. Put your tripod legs directly on the skateboards grip tape or drill some holes into the board and attach a tripod head directly to the board. It's very important you lay down some masonite, plywood, linoleum, cardboard or other thin flat material to make sure the surface is as smooth as possible. Do a couple test shots and figure out if your need to adjust anything. You can eve use the mini finger skateboards as a dolly for small action cameras to get some short movement shots. Just put the camera on the skateboard and — voila — you have a dolly for $10.00.
There is also a way you can get a professional looking dolly shot for free by just retracting the front leg of your tripod and slowly and smoothly moving your camera up and down. This only works for short dolly shots but it really does look cool and you don't have to purchase any extra equipment.
[vm_ads:segment_break:2]
Robert Rodriguez wrote, directed, shot, edited, cast and produced his film, "El Mariachi" all for $7,000. He used a wheelchair from the hospital where he was undergoing medical testing to pay for his film to capture his moving dolly shots. Alfred Hitchcock also used wheelchairs as dollies to get his signature dolly zoom effect in "Vertigo." Try simultaneously zooming in and dollying out to give your shot a frightened, rushed, surprised look.
Beyond DIY
If you would rather purchase inexpensive quality equipment on the internet go to Varizoom.com. They offer great gear at very affordable prices. The Varizoom Stealthy Stick is very affordable at $109, has a clamp and remote for GoPros, small point-and-shoot cameras and smartphones. Or, you can upgrade to the Stealthy Pro with its six-bearing gimbal which provides a much smoother shot.[image:magazine_article:57748]
With digital technology evolving every day there is no telling what the future holds for filmmaking. Years ago you would need to hire a helicopter or a crane to get professional looking areal shots but now with a variety of drones carrying HD, 2k and 4k cameras you can get Hollywood shots for a couple hundred dollars and a little practice. Remember, these are unmanned flying devices, so it's a good idea to take some classes in drone flying and safety before you just go out and start flying.
Put into Practice
So there you have it, a bunch of ways to get more professional looking videos without a truckload of expensive equipment. Everyone can shoot like a pro when you have good light, audio and stabilization. The hardest step is the first one so just put one foot in front of the other and start by making short videos and make sure to have fun!
Willow Jon Collamer travels the world on a shoestring budget with his guitar, skateboard and video camera creating fun inspiring videos for his website http://willowjon.com/